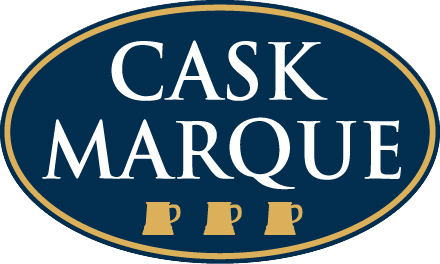 Another Quality Award for The Plough & Harrow.

The 'Cask Marque' is an award for pubs which serve great quality cask ale.

Cask Marque is an independent company funded by brewers, pub groups and trade bodies (see below) with the aim of improving beer quality through an accreditation scheme.
Qualified assessors make over 20,000 visits a year to over 9,000 pubs which hold the award.
They test for temperature (to score full marks the beer should be between 10 – 14 degrees), appearance, aroma and taste.
All beers must make the grade to pass the visit.
Accredited pubs are then promoted through the CaskFinder App, CaskFinder Online and through the plaque and point of sale at the pub.
Recent independent research by Cardinal for the 2014 Cask Report identified that 71% of beer drinkers recognised the Cask Marque plaque as a badge of quality.
Amstel
Heineken
Our classic, golden Amstel Beer, with its very distinctive and mildly bitter taste, has over the years become well known beyond the borders of its native country.
Foster's
Heineken
A pleasant, fruity, lighter-styled quaffing lager
Guinness Draught
Guinness
Guinness is an Irish dry stout that originated in the brewery of Arthur Guinness at St. James's Gate, Dublin. Guinness is one of the most successful beer brands worldwide.
John Smiths Extra Smooth
John Smith's Brewery
John Smith's Extra Smooth was launched in 1993 and is now the nation's number 1 ale.
Kronenbourg 1664
Heineken
Kronenbourg 1664 is a lager with a noble history, characterized by its fine taste. Its golden hues and delicate bitterness come from selecting the best hops (the Strisselspalt), and the unique know-how of one of the French master brewers.
Strongbow
Heineken
Strongbow gets its distinctive flavour and cut-through refreshment through the unique blends of bittersweet British cider apples from our Herefordshire orchards.
Strongbow Dark Fruit
Heineken
Crisp Strongbow cut with a blend of dark fruit